While sustainability is revered as a moral imperative by some as a value‐creation strategy for companies to create value for their stakeholders, others want to spurn it as a marketing strategy or selling point; which too can help if not more effectively achieve the value creation strategy. This outlook can carry unintended consequences, to look at sustainability only through ideological lenses rather than taking a pragmatic approach to advance the goals of sustainability and encourage companies to adopt sustainable practices.
It is a noble position for our inspirational business and political leaders alike, to ascribe to the view that it is a moral imperative to drive sustainability as a core tenet of responsible business practices—which I fully support—however, I am pragmatic enough to recognize that moral imperatives do have their own limitations in making strong and compelling arguments to influence the behaviors of non-committed business leaders and consumers alike. As such, tapping into what motivates various constituencies we seek to influence, requires that we meet them where they are.
Meeting people where they are is nothing but "using innovative communication strategies to reach the broadest possible audience." According to Stanford SOCIAL INNOVATION Review, "…brilliant experts can write compelling policy papers filled with breakthrough ideas to make our society better. But they can't influence and shape the debate if no one is reading and digesting their work." The article further states:
"This is something that John Podesta and the founders of Center for American Progress (CAP) understood when they set out to create a new kind of think tank, they knew that to have success, you have to be forward thinking in your outreach and strategic about whom you are trying to influence."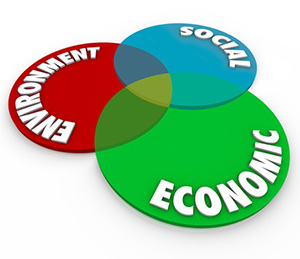 As an opinion writer and promoter of luxury brands with Eco‐ friendly products and luxury brands with sustainable practices, I make no apologies to my reading constituency and our society at large that the task of creating value creation for companies' stakeholders is factually tied to economic value, even in the case that the value creation is based upon a moral imperative such as sustainability, which plays a huge role in corporate social responsibility (CSR). Corporate Social Responsibility initiatives, for companies with good to stellar CSR records, are significant intangible assets defined as good will built upon corporate reputation, with tremendous economic value should companies be acquired by others or acquire others. There is a premium always paid above and beyond fair market value for the intangible asset of good will, as part of the acquisition cost.
In the words of Carly Fiorina, "…strategy and execution are two parts of the same coin…," I concur. However If the strategy is to impart sustainability as a moral imperative, what is the execution plan to influence non- committed business leaders that are not convinced about the moral argument, but the profit motive is best at getting their buy‐in or in persuading them to gain their commitment? What is the execution plan for consumers who only make their purchase decisions based upon sustainability concerns but lack enough information to aid them in their decision making processes? What has been the communication plan to inform and educate them about what products and services which are best aligned with their social values or which companies are conducting their business in socially responsible ways? For corporate social responsibility and profit motives do not have to be mutually exclusive; they can be collectively exhaustive!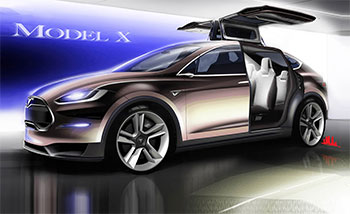 My intent for this week's article was to feature the Tesla Model X and its anticipated debut, with delivery scheduled for the third quarter of 2015, given there were several sightings of the Model X prototype in the past two weeks on the highways of Palo alto, CA. However, I digressed to create an editorial piece which still arrives at the conclusion I would have reached, had I written one of my signature promotional articles. Nevertheless, this article puts in context the Tesla business model, which produces high‐quality luxury automobiles which are Eco- friendly and help address an environmental challenge with respect to alternative transport. The corollary to this article is that not all Tesla customers or Tesla aspirational buyers are motivated by environmental concerns in making their purchase decisions. While most of their consumers may be LOHAS CONSUMERS—also known as traditional Eco‐friendly consumers who consider environmental sustainability in their purchase decision—others are early adopters who like to be the first to own a vehicle, or any piece of technology at the cutting edge of innovation; while others may be CONVENTIONALS, where their attitudes are not necessarily aligned with those of the LOHAS CONSUMERS, but buy Eco‐friendly products because of the tax benefits of fiscally responsible products.
The challenge for business leaders is to tap into who these consumers are; whether environmental sustainability is looked upon as a moral imperative or as a selling point, however, can be advanced by appealing to various consumer segments. While the motivation of business leaders and consumers may vary, selling Eco‐friendly products and incorporating sustainable practices in our companies' business processes, collectively and undeniably do advance sustainability efforts.

Lynda Chervil is an entrepreneur, author, environmental sustainability advocate and promoter of sustainable brands and luxury brands with sustainable practices. She is the Managing Principal of Pearl Strategic Consulting, a business strategy consulting practice; CEO, Group Publisher and Editor in Chief for Luxury Trine, a Digital Media Group launching in the second quarter of 2015. She graduated from New York University with a Master's of Science in Integrated Marketing Communications. She is also a member of Luxury Society.