Long before the start of the industrial revolution, Political Economist Adam Smith had it right on the theory of economies of scale. The theory of economies of scale is without argument a pre-cursor to the industrial revolution, which marked a major turning point in history, as we transitioned to new manufacturing processes.
With advancements in new manufacturing processes enabled by leveraging the economies of scale, let's face it, the automobile industry is now a commodity business. Far gone are the days when automobiles were purchased by some consumer segments as nonessential goods. As mass production of automobiles continues to be efficient, they will remain marketable products to satisfy the transportation needs and wants for most consumer segments.
What are economies of scale? Defined as the decrease in unit cost of a product or service resulting from large-scaleoperations, "Economies of scale are achieved when a good or service can be produced on a larger scale, with less input costs. "
From the commodity clutter created by mass production within the automobile industry, luxury automobile manufactures have been able to leverage a mix of branding strategies for their products to differentiate themselves from the masses and from each other. All while competing in the same space with market segmentation schemes that focus on delivering premium products based upon quality, performance, durability at different price points.
Not all luxury brands are created equal! While some luxury brands have ancillary competitive advantages over others; however, very few have unique competitive advantages on innovative technologies.
Celebrating Tesla Motors Powertrain
What is the Tesla Powertrain?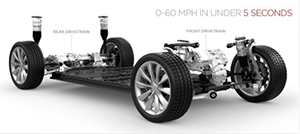 No longer does anyone need to imagine going from 0 to 60 mph in 3.2 seconds. The uniquely patented Tesla Powertrain technology, already uses a single-speed transmission to achieve the performance specifications of accelerating from 0 to 60 mph in 3.2 seconds. Arguably, this revolutionary technology challenges the industry standard gasoline-powered, internal-combustion engine; which is its principal automobile powertrain; which can regrettably claim a 35% drive efficiency, since the majority of the energy stored in the gasoline is lost as heat during the conversion process.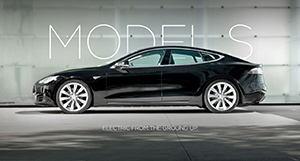 Did you know that a Tesla Model S vehicle has an EPA certified range of 265 miles? Tesla's innovative Powertrain allows drivers of the sexy Roadster, with an overall drive efficiency at 88% (the sophisticated Model S and soon to be released exciting Model X) to reach top-speed performance in fractions of a minute. Moreover, it allows them to extend their driving range capacity at distances far surpassing its competitors range. Tesla has been able to successfully extend the range in its automobiles by designing a highly-efficient drive inverter and motor; by effectively converting energy before it turns to the wheels and containing energy with decreased aerodynamics losses, which reduce road load at higher speeds. A lower road load impacts a vehicle's ability to resist not only wind, but mechanical friction and tire rolling at higher speeds.
Mercedes Benz traditional brand attributes of performance, luxury and status, transcend time. As the brand evolves and continues to innovate across products and services, the latest brand attribute gaining traction amongst various consumer segments, is trending with "Sophistication."
Introducing the Mercedes Benz Intelligent Drive System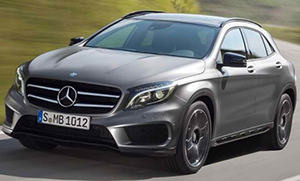 It takes a sophisticated Intelligent Drive, considered the most advanced in the industry, to combine safety and driving assistance with an intricate integration of safety features to help drivers:
Spot critical situations
React in fractions of a second
Recognize speed limits and no entry signs
Park into and out of parallel parking
Improve night visibility, using infrared cameras to detect people up to 160 meters and large animal up to 100 meters for drivers.
Did you know Mercedes Benz Collision Prevention Assist checks the distance to the vehicle ahead, and if the distance is not adequately sufficient, drivers receive visual warnings? Likewise, when collisions are threatening, drivers receive a sound warning and the adaptive brakes assist the driver to brake. Lately there has been a lot of buzz about autonomous driving, but the Mercedes Benz Steering Assist and Stop & Go Pilot are leading the way towards autonomous driving!
As you visit showrooms for your next automobile purchase decisions, please consider a Tesla vehicle or a Mercedes Benz B Class for your driving experience. Excellent choices for the environment and our planet will thank you!

About the author: Lynda Chervil is an entrepreneur, author, environmental sustainability advocate and active promoter of sustainable brands and luxury brands with sustainable practices. She is the principal of Pearl Strategic Consulting, a business strategy consulting practice. She graduated from New York University with a Master's of Science in Integrated Marketing Communications and had held many roles in new business development, sales management and executive leadership.